---
Tomb of the Unknown Soldier
What: Replica of the Tomb of the Unknown Soldier
Where: Veteran's Monument Bittersweet Park
When: July 2-4, Display times 9:00 am to 7:00 pm
The Exchange club of Greeley is bringing a replica of the Tomb of the Unknown Soldier to Bittersweet park. The replica is exactly half the size of the original in Arlington National Cemetery and includes three crypt covers from World War II, Korean War and Vietnam War veterans. Created as a National Service project by the Americanism committee, the replica was built with the assistance and permission of the Arlington National Cemetery.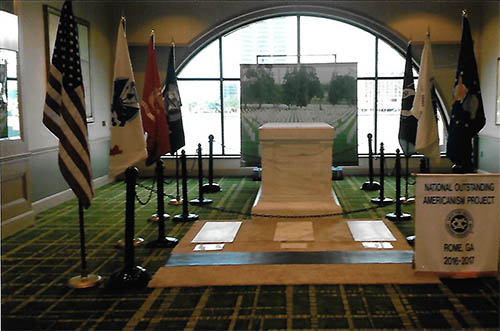 At this time the Exchange Club of Greeley is requesting both financial assistance for this project and assistance in the security of the replica in 12 hours shifts from 7:30 pm to 7:30 am.
Expenses to bring the replica to Greeley are designed by the club to be cost of the trip only. They request 50 cents per mile (1,387 miles) and meals and lodging for the four men who accompany the replica. The Exchange Club of Greeley is currently seeking support and sponsors to cover the cost of trip and of the display while it is here. Costs are not expected to exceed $2,000.
---
SCHOLARSHIP INFORMATION FOR 2018 -
A.C.E. Accepting the Challenge of Excellence - This scholarship recognizes a high school student who has made a dramatic change in their attitude and performance sometime during their high school years. These changes have enabled the student to overcome their adversities and prepare for graduation. Hence the award's name, A.C.E., which is an acronym for Accepting the Challenge of Excellence. Applications are to be mailed and postmarked by March 3, 2018!
Youth Award - This award is for a student who is a Weld County resident, attends high school in Weld County, and is a Graduating Senior(2018) who is maintaining satisfactory academic progress as a full-time student, as well as involvement in Community Service in a significant manner. Applications are to be mailed and postmarked by March 3, 2018!
---
Stampede Sign-Up


We will need volunteers for Stampede...2018 Schedule coming soon. Volunteers for setup and take down and needed too!



Preventing Child Abuse is Our Passion!